Video poker stands among the most beloved game types in the gambling world. It is one of the most common game genres that you can encounter at any online casino and it is one that players enjoy thoroughly. Video poker has not been around for too much time when compared to other casino game types, such as roulette and blackjack, but it has established a solid player base and gained a secure place at every gaming hall and online casino.
Many different variations of video poker have come out over the years, making this one of the most diverse game genres in existence. Much interest has arisen from the community regarding this game and in this article, we will cover all important aspects of video poker and give you some in-depth information about it.
Video Poker Rules
Each video poker games comes with its own set of unique rules, but all of them follow a similar pattern. At the start of the game, you will be asked to put down a bet. Generally, this can be as high as you wish, with respect to the game's minimum and maximum limits. Typically, a video poker game will allow you to wager up to 5 units, which are often referred to as coins. After that, you will be dealt a hand of five cards and you will get to choose which to keep and which to discard.
Following that, the game will replace the cards which you threw away and that will be your final hand. Based on the strength of your hand, you may or may not earn a payout. Something to keep in mind is that video poker is played with one standard 52-card deck, giving you a good chance to estimate the probabilities of being dealt certain hands. Moreover, some video poker variations may include additional cards in the deck, but these are few and far between.
Video poker uses the traditional poker hand ranking system featured below:
Royal Flush – A hand made of a Straight Flush, ranging from 10 to Ace.
Straight Flush – A hand made of a Straight, where all cards are of the same suit.
Four-of-a-Kind – A hand consisting of four identical cards and an extra one. For example, 4-4-4-4-5.
Full House – A hand consisting of a Three-of-a-Kind and a Pair. For example, 2-2-2-3-3.
Flush – A hand consisting of five cards, all of the same suit.
Straight – A hand consisting of five cards in sequence. For example, 5-6-7-8-9.
Three-of-a-Kind – A hand consisting of three identical cards and two random ones. For example, 3-3-3-A-10
Two Pairs – A hand consisting of two different Pairs and a random card. For example, 7-7-8-8-J.
Pair – A hand consisting of two identical cards and three random ones. For example, 10-10-3-7-K.
High Card – A hand where no other combinations can be formed so the highest-value card is matched against a similar hand.
Naturally, each video poker variation includes its own unique combinations and places them somewhere in this established hierarchy. Each combination offers its own unique payout, based on how difficult it is to accomplish. The payout ratios are proportional to the number of coins wagered per game. However, certain combinations, more specifically the ones that are exclusive to the game, offer slightly higher payouts than one would expect.
A common feature found in most video poker games is the Gamble. Whenever you score a winning hand, the game will give you the option to increase your winnings by staking them again. Some games will give you the option of choosing to wager 50% or 100% of your winnings, for a chance to win more. If you choose to take this option, you will be dealt five cards face down. The leftmost card will be revealed and you will have to pick one with a higher value.
If you chose correctly, you will win money proportional to the amount you gambled, but if you do not you will lose the bet. This could be an excellent way for you to increase your winnings, but it could also lead to you gambling away everything. For this reason, we advise that you to use this feature sparingly and never risk large wins.
Video Poker Variations
As we have mentioned above, video poker is a very diverse casino game genre and you can expect to find multiple variations of it wherever you go. Typically, online casinos rarely stick to one particular type and will include all manner of different sub-genres. With so much choice at your disposal, we feel that it is adequate for you to know what you will be getting yourself into. Below, you will find brief descriptions of the most popular video poker variations found in today's market.
Deuces Wild
Deuces Wild is arguably the most popular video poker variant. This game is played with a 52-card deck, in which the Deuces (or 2s) serve as Wild cards. This means that the 2s can take the form of any other card in the deck when forming combinations.
Essentially, if you are missing one card to form a certain hand, but you have a Deuce, the Deuce will stand in for the missing card, helping you form the most beneficial hand.
Jacks Or Better
Jacks or Better is a simple version of video poker, where the minimum qualifying hand is made up of a Pair of Jacks. There is nothing more to this game type that would need explaining and you can jump in and start playing.
Jacks or Better is a very popular sub-genre of video poker and it is available at practically any online casino. Moreover, it also features excellent odds and very low house edge percentages.
Joker Wild
Joker Wild is yet another common sub-genre of video poker, where the game is played with a 53-card deck. From that deck, we play with 52 traditional cards, while the 53rd takes the form of a Joker. The Joker serves as a Wild Card, standing in for missing cards when needed.
Similar to Deuces Wild, Joker Wild can be found at many online casinos and it is liked by players due to the possibility of a Joker card helping you finish combinations. This video poker variation features excellent payout ratios for higher combinations and will also give you great odds with a high return-to-player percentage.
Progressive Video Poker
Progressive video poker might not be as common as other sub-genres, but it is still a highly attractive game type and you should certainly give it a try. Basically, progressive video poker refers to a video poker game which features a progressive jackpot. A progressive jackpot is a prize pool where the size of the jackpot is increasing on a regular basis. From each bet placed on the game a certain amount is set aside and pooled in the jackpot.
Progressive jackpots are not exclusive to the video poker genre and they have been featured in other game types such as slots and roulette. While progressive video poker does not offer jackpots as large as progressive slots, you will find that they are more than adequate for the odds that you play at. Progressive video poker games can come in many variations and they are not limited to one particular sub-genre.
Software Providers
Naturally, there are many different types of video poker games out there. Some players may be under the false assumption that each online casino creates its own games. In reality, that would be too time-consuming and expensive, so gambling websites rely on companies dedicated to the development of online casino software. Often called software providers, these companies are instrumental to the online casino industry as they license their games out to gambling websites.
In turn, online casinos have many more games to offer and users are happy for the diversity. Currently, there are several dozen software providers operating around the globe, but only a few make an actual difference. Below, we will give brief descriptions to some of the more influential companies in the industry and so that you may know which online casinos to frequent.
NetEnt
NetEnt is one of the oldest software providers in the industry, founded in 1996 in Sweden. This company has been in the business of developing online casino games for more than two decades and has perfected its craft. Nowadays, there are one of the best proprietors of casino games and many gambling websites take advantage of their services.
NetEnt games are characterized by their high-quality graphics, immersive background music and excellent gameplay. This company is involved in the creation of many different game types, but its video poker selection is of exceptional quality.
Playtech
Playtech is arguably the largest software provider in the industry, offering users the largest selection of casino games out there. This company was established in 1999 in Estonia and since then it has gained a dominant position in the online gambling industry. Supplying hundreds of casinos with high-quality games, it has remained a leader in the industry for almost two decades.
Playtech boasts an excellent gaming library and as far as their video poker offerings are concerned, you will find it more than acceptable. Playtech has some of the best video poker games on the market and you will be more than happy to play them.
Play'n GO
Play'n GO is another excellent software provider currently active in the online casino industry. This company does not possess a gaming library as large as those of NetEnt or Playtech, but their offerings are more than worthwhile. A hallmark of Play'n GO titles is the unrivaled graphical fidelity and the smoothness in the animations.
In terms of presentation and visuals, there are only a handful of companies that can stand toe to toe with Play'n GO. Moreover, this company has developed quite a few video poker titles that you will surely want to play.
Popular Video Poker Games in South Africa
Of course, by now you must be wondering what games you should play when you first visit an online casino. The video poker genre is quite diverse, as we have already mentioned, and there will no doubt be many games for you to try. Therefore, allows us to point you in the right direction.
From the majority of games that we find at online casinos, we have selected a handful which we are sure that you will greatly enjoy. Each of these titles has excellent gameplay and generous paytables, making them an excellent choice in terms of video poker.
Joker Wild by NetEnt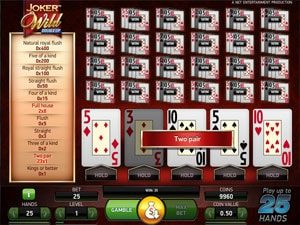 NetEnt offers yet another great game. As indicated by its title, this game is in the Joker Wild style, in which the Joker card serves as a Wild, acting as a substitute for any missing card and helping you form winning hands. NetEnt never fails to impress us and here we are presented with an excellent game, that will allow you to wager up to $50 per hand. Of course, you do not need to wager the maximum amount to win the largest payout, which is 4,000 coins for a Natural Royal Flush. You simply need to bet the maximum number of coins.
The graphics of the game are some of the best we have ever seen in the video poker genre. Joker Wild features the traditional NetEnt visuals, with beautiful colors lighting up the screen, accompanied by buttery smooth animations. Playing Joker Wild is an excellent experience for both new and veteran players, and we are sure that anyone will enjoy their time with this game.
Deuces Wild by Playtech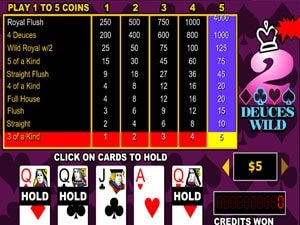 Deuces Wild by Playtech is one of the most popular video poker titles available on the Internet. Featured at many online casinos, it is also one of the most accessible games. As you can tell by the name, this game is in the Deuces Wild format, where the 2s serve as Wild cards, standing in for any missing card in a combination. Deuces Wild by Playtech comes with fairly conservative betting limits, allowing players to bet up to 5 coins per hand, with each coin having a value up to $1.00. The paytable, however, is very generous, rewarding you with 4,000 for a Royal Flush when playing at the maximum bet.
In terms of graphics and user interface, Deuces Wild by Playtech is as good as any other video poker game out there. Everything presented in a clear and concise manner, letting you easily understand what is actually happening on the screen. The graphics are colorful and well-toned for this type of game, making the presentation quite easy on the eyes. Overall, Deuces Wild by Playtech is a great video poker title and we are sure that you will have a great time playing it.
MegaJacks by Playtech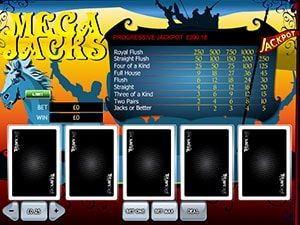 MegaJacks by Playtech is a video poker game in the style of Jacks or Better and it is one of the few titles in this genre to feature a progressive jackpot. Playtech has put in quite a lot of effort when developing this casino game and users are now reaping the benefits. MegaJacks features the typical betting limits for a video poker game and it comes with a great paytable. The progressive jackpot can be won by getting a Natural Royal Flush hand when playing at the maximum bet. While we cannot report on the current state of the jackpot, we can safely say that its minimum value is at least 4,000 coins, meaning that you can never go wrong by winning it.
In terms of graphics, MegaJacks may seem somewhat dated by modern standards, as it is quite an old game. However, its essence is still there and it is a highly entertaining game, equipped to provide you with many great moments. If you are a fan of the Jacks or Better subgenre, why not play a game where you have the chance of winning a small fortune?
All American by NetEnt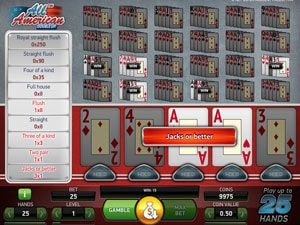 All American by NetEnt is an incarnation of the traditional Jacks or Better style but with modern graphics and more functional user interface. This game represents some of NetEnt's best work and you can play it a good number of online casinos. All American comes with very liberal betting limits, allowing you to wager up to $50 per hand. Moreover, you will also benefit from the generous paytable featured in this game. A Royal Flush will reward you with 4,000 coins when you are wagering the maximum number of coins.
NetEnt games generally stand out with their excellent graphics and All American is no exception to this. You will find that the user interface is quite good, presenting everything is a clear and legible manner. The visuals, on the other hand, are very impressive for a video poker game, making the experience a feast for the eyes. Overall, we believe that you will have a great time playing All American by NetEnt, much like we did.
FAQ
Of course, you must have some questions that we did not cover above. If this is the case, please look below where we will go over the most frequently asked questions regarding video poker.
Online casinos are becoming ever more accommodating to mobile users and software providers have adapted most of their games to be playable on devices with smaller displays. In the vast majority of cases, you will find that most of the games are available on smartphones and tablets, which also includes video poker titles.
Video poker is one of those games where the deciding factor is not luck alone. Instead, you will have to utilize a strategy if you wish to be truly successful. Of course, there are some random elements such as the card draw, but overall, you account for this by calculating probabilities. In general, you can have a great experience with video poker if you come prepared. This is a game that rewards skill and expertise, but it is also simple enough to be enjoyed by novice players.
Multi-Hand video poker games are quite popular and their hallmark feature is quite amusing. However, what you should know is that each hand you play is independent of the others, meaning that for each hand is drawn from a separate deck. As such, each hand comes with the same probabilities of winning and losing. In this sense, a Multi-Hand game will not help you win more or less, it will simply allow you to play at a faster pace.