Slots are a staple at landbased casinos where you can see them lined up on the floor, all shiny and inviting, waiting for visitors to fill their bellies with dollars. Playing these one-arm bandits, as slots are sometimes called, can be exhilarating and if you are lucky enough, rather profitable. All you need to do is feed some money into the machine, press the button, and keep your fingers crossed in anticipation the winning symbols will align on the paylines.
Due to their huge popularity, slots have now become a must at hundreds of online casinos where they are enjoyed by players across the world. Gamblers from South Africa have also joined the slot craze that has taken the world by storm and enjoy placing bets on these alluring games at some of the online casinos accepting action from their country.
However, if you are unfamiliar with what slots are all about and how they work, understanding the game lingo can seem a bit intimidating at first. In this guide, we shall introduce South African players to everything they need to know about online slots, from their basic elements and features through the different slot categories and software suppliers providing the games. In the end, we have reviewed five of the most popular online slots among South African players so you know which games to check out first.
Short Overview of Slots' History
Before we go into any particulars on how slots work, we would like to say a few words on this popular casino game's history. The precursor of all modern-day slots was created by Sittman and Pitt and consisted of five spinning drums, or reels as they are also called. The drums contained 50 playing cards, with the remaining two cards removed (usually the jack of hearts and the ten of spades) to increase the odds for the house.
These machines became hugely popular across saloons and bars in New York and awarded prizes whenever the symbols aligned to form a winning poker hand. However, there were no automatic payouts on these machines because of the high number of possible winning combinations. Instead, players were rewarded with cigars, free drinks, or whatever was offered in the establishment.
Reel fans have San Francisco mechanic Charles Fey to thank for the actual invention of slots since Sittman and Pitt created what appears to be the prototype of contemporary video poker machines. At the end of the 19th century, Fey borrowed their idea and created the Liberty Bell – a machine with a rather simple mechanism that contained only three rotating drums
Each of these drums contained symbols of card suits like spades, hearts, and diamonds, as well as horseshoes and bells, hence the name of the machine. The reduction in the symbol and reel number enabled Fey to design a mechanism that was capable of awarding payouts on winning combinations automatically. The highest prize of approximately $0.50 went to the player who aligned three bell symbols in the middle.
Fey's Liberty Bell became a huge success and was soon copied by other entrepreneurs. This resulted in the creation of numerous bell-based machines which made their way to saloons, barber shops, and cigar stores around the United States. Some used fruits as symbols and players were awarded chewing gums of different flavors depending on the identical fruits aligned on the reels. In fact, prizes were initially paid out in the form of gums, candies, and other treats. This was a way to circumvent the anti-gambling laws in many of the country's states.
Slots continued to evolve during the decades to follow until Bally Technologies introduced Money Honey in 1963, the first machine to be entirely electro-mechanically operated. This was a turning point in slots' history. Over a decade later, the Las Vegas-based company Fortune Coin Co produced a slot with a colored display and a motherboard that governed all functions of the machine.
A couple of years later both Fortune Coin and their creation were purchased by International Game Technology (IGT) and found a huge popularity across Sin City casinos. In 1996, WMS Industries released the first slot machine to offer a second-screen bonus game and the rest, as the saying goes, is history.
Online Slots Features
Online slots are glammed up versions of their landbased brethren so they would play in the exact same manner. The player is awarded a payout whenever identical symbols align in a specific way across the screen. The size of the payout depends on the winning symbols and their number. You start by choosing what amount to bet per spin.
The games would utilize certified Random Number Generators for the outcome of the spins. This is a special piece of software which generates arbitrary numbers corresponding to the symbols on the reels to determine whether you win or lose on any given spin. The other components of a slot machine are the reels, the paylines, the paytable, and the gaming controls, but an advanced online game would typically also offer several other features like second-screen bonus games, free spins, and extra symbols for better winning opportunities.
The Reels
It was mentioned in the historical overview that the reels are the rotating cylinders that contain all the symbols a given slot uses. The number of reels varies but most slots you can find at online casinos would use either three or five reels. That being said, some software developers have introduced games where six or even seven reels are in play.
The reels and the number of symbols each of them contains are directly related to the number of winning combinations. The number of combos can be calculated by raising the number of symbols each reel contains to the third or fifth power, depending on the reels' number. For example, if you are playing a 5-reel slot where each reel has 20 symbols, the number of paying combinations on this game would be equal to 3.2 million (20 x 20 x 20 x 20 x 20 = 3,200,000).
This can also show you what the odds of pocketing the jackpot on one such game are. Let's say you are playing the slot from the previous example and it awards its jackpot for a combo consisting of five cherry symbols. If each of the five reels contains two cherry symbols, your chances will be 3,199,968 to 32 because there are 3,199,968 ways for you to lose out of 3.2 million and only 32 ways to win (2 x 2 x 2 x 2 x 2 = 32).
Such calculations are easy to perform when one is playing an old-school fruit machine but this is not the case where advanced online slots are concerned. The games you can play at online casinos would normally feature far more than 20 symbols per virtual reel.
Another important thing South African slot fans should have in mind is that the number of winning combinations is not an accurate representation of their odds of winning. You should take into account the hit frequency, also known as volatility or variance. The higher the chances of a given winning combination to hit, the lower its payout will be and vice versa. Both the payouts on winning combinations and the slot's hit frequency are determined by the software supplier developing the game.
The Paylines
The paylines are the lines the matching symbols need to align on in order to return a prize. Back in the day when the first slots appeared, there was only one payline that was placed horizontally across the middle of the reels. As time progressed, more lines were added zigzagging across the reels, which further increased the players' chances of hitting a win. Today most modern online slots would feature anywhere between 9 and 40 lines, but some may even offer up to 100 lines.
The direction in which the identical symbols align on a payline is also of consequence. With many video slots, the matching symbols must align from left to right in order for the player to scoop up a prize. Each active payline requires a separate bet, so if you are playing one coin of $0,05 with 30 activated paylines, your total bet per spin would amount to $1.50. Nowadays, there are games utilizing the all-ways-win formula where the identical symbols should only fall onto adjacent reels to pay out and their exact position is inconsequential.
The Paytable
The paytable is one of the most important elements of an online slot since this is where you can see all the winning combinations of symbols along with their payouts. Most slots surprise you with a prize when you have at least three matches on an active payline. The payline also contains important information in regard to the slot's additional features and shows you how you can unlock second-screen bonus games and free spins. All lines you can win on in a given game are also put there.
The Gaming Controls
The gaming controls of the slots are quite simple to operate even if you have never played on previous occasions. There are buttons to regulate your coin denomination and stake size with. Many video slots would enable you to bet multiple coins per active payline which increases your return on winning combinations. In slots where the paylines are not fixed, you have a separate button allowing you to adjust the number of active lines you bet on.
The spin button sets the reels in motion. There is usually a bet max button, which enables players to wager the maximum number of credits the game supports per spin. Online slots would often accept between one and ten coins per round but this varies between games, of course.
Special Symbols and Features
Your odds of winning on advanced online slots are boosted through the inclusion of additional symbols and features. The majority of modern slots would feature extra wild symbols which function the same way as wild cards in poker and can replace missing icons to complete paying combinations.
There are all sorts of wilds out there, from expanding and stacked wilds to shifting and sticky ones. Another special symbol is the scatter. It is sometimes used to trigger the slot's extra features but more importantly, it can create winning combinations irrespective of which position the symbols appear in. Scatters pay as long as the matching symbols have appeared on neighboring reels.
Most advanced slots would usually include bonus games that would load in a separate screen that differs from that of the base game. Players are then asked to select from different items, each one containing monetary prizes, multipliers on the winnings, or more picks. Slots would also reward spinners with free spins which is a great way to pocket an extra payout without risking any of your money.
The majority of the games players can enjoy at South Africa-friendly online casinos have a gamble feature, activated after each winning round. This allows you to risk your winnings on the last successful spin to double them. Be careful, though, since you might lose what you have won on the previous spin.
Categories of Online Slots
South African-friendly casinos are homes to an incredible versatility of online slots, ranging from the fruit classics we talked about in our history overview to the latest advanced options that will floor you with their high aesthetic appeal and surprising features. Slots can be grouped into several categories so read on as we elaborate on each of these below.
Classic 3-Reel Slots
Classic slots are the simplest variety, which features only 3 reels with three rows of rotating symbols. The number of paylines here is often limited to a single line across the middle row but some classic slots would feature several paylines, running diagonally across the screen. The symbols in use often coincide with those on old-school one-arm bandits as winning combinations would feature cherries, lemons, plum, watermelons, bells, lucky sevens, and bars. Classic slots are almost entirely void of additional features, although some of them may offer wilds and multipliers.
Video Slots
Video slots are a larger subclass of games which utilize 5 reels and a higher number of paylines, sometimes reaching up to 100. Logically it follows that this gives you more winning combinations and increases your chances of a win. The paytables of these games are more elaborate due to the higher number of winning lines and may be a bit cumbersome to get used to at first.
In addition to the increased payline number, video slots offer an enhanced visual appeal since they would feature clearer graphics and animations. These are more exciting to play when compared to 3-reel slots because they are packed with additional features like wilds, scatters, bonus games, and free spins.
3D Slots
3D slots play in the same fashion as regular video slots, the only difference being they feature three-dimensional graphics and animation. The animated characters included in such games would interact with the players throughout their session, cheering them on when they hit a win. Another important aspect of 3D slots is the more elaborate gameplay. Players can often complete different achievements and advance from one level to the next.
Progressive Slots
Progressive slots beat all other varieties in terms of popularity since they offer immense prizes, some of which reach millions of dollars. Understandably, they are a favorite of many South African spinners as well. The jackpots on these games are called "progressive" because they increase every time somebody makes a bet on the slot.
A portion of each bet is added to the progressive pools and the remainder goes towards the seed, which is the fixed amount the jackpot is reset to when somebody wins. This way, players are given an incentive to continue betting after the jackpot has been hit. On the bad side of things, progressive slots often have a lower average return percentage to compensate for the immense jackpots they award.
Mobile Slots
The mobile gaming craze we have been witnessing as of late has resulted in the emergence of numerous mobile-compatible slots, whose reels can be spun on a wide range of portable devices. These games have been adapted for touchscreen play so that most actions can be performed with swiping motions or tapping. The graphics and animations of mobile slots are more pleasing to the eye as the phones' advanced screens make them even brighter and sharper.
Best of all, they would work on the majority of smartphones and tablets that use iOS and Android. South Africa-friendly casinos would offer mobile slots either via their native mobile apps or in instant play where you can load the games in your phone's browser.
Software Suppliers of the Best Online Slots
It is no secret for anyone the most enticing online slots are courtesy of world-leading software providers like Playtech, Betsoft, NetEnt, Quickspin, and Play'n GO. Some of the best slots released to this date are supplied by Playtech, which is largely regarded as a veteran in this sphere.
The bulk of Playtech's gaming selection consists of various video slots that appeal to players with their extraordinary graphics and satisfactory average-return rates. Among Playtech's standout creations are the games from the Age of the Gods collection which boast various innovative features alongside enormous progressive jackpots that are pooled across all casinos that use the developer's software platform.
South African reel spinners who are into 3D slots are recommended to search for an online casino that uses Betsoft's software. Betsoft is considered one of the suppliers to design the best online slots on the market and is hugely popular for its 3D creations like Fire and Steel, Gypsy Rose, and Greedy Goblins. These indeed take reel spinning to a whole new level as the games' characters are brought to life by the cinematic animations and rich graphics.
NetEnt's slots are also commonly preferred by players from South Africa. The company develops its games exclusively for in-browser play and has so far produced over a hundred premium titles whose high-quality graphics and realistic sounds can make the mouth of any reel spinner drop. NetEnt is no stranger to thinking outside the box as becomes apparent from its slots' innovative features. These include exploding symbols, increasing multipliers, expanding wilds, and lucrative bonus rounds. NetEnt is also responsible for the release of some of the slots with the biggest progressive jackpots out there, with Mega Fortune and Hall of Gods serving as the perfect examples.
Quickspin may be one of the newer software developers but it has already gained a solid position on the market, winning the hearts of players the world over with its bespoke creations. The company focuses solely on the development of flash-based desktop and mobile slots and has so far released 38 unique titles. The games catch the eye with fun themes, vibrant visuals, immersive sounds, and excellent gameplay.
Play'n GO is another favorite of reels spinners from South Africa. The company has been operating independently since 2005, releasing a range of slots that are instantly recognizable due to their distinctive features and multiple bonus rounds. The developers use HTML5 when designing the games which means you can play Play'n GO slots within the browser of your device whatever it happens to be – an Android-based smartphone, an iPad, a Mac laptop, or a Windows-based desktop computer.
South Africa's Favorite Online Slots
There are thousands of slots you can play online at South Africa-friendly casinos so lacking a choice should be the last thing you need to worry about. But just in case you are wondering which titles do your compatriots prefer, we present you with five of South Africa's favorite online slots.
Age Of Gods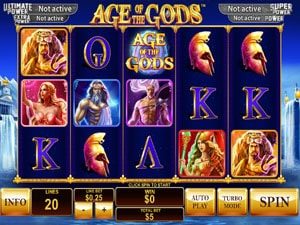 Age of Gods spans an entire collection of Playtech slots that are inspired by different gods and goddesses from Greek mythology. Some of the most noteworthy titles from this collection include King of Olympus, God of Storms, Goddess of Wisdom, and Fate Sisters. All games from the series feature superior graphics, life-like audio, and a four-tier progressive jackpot, which is the biggest drawing attraction for South African players.
The progressive pools are shared between all slots from the series, with four different prizes building at different rates. The jackpots are triggered randomly and can hit even on spins that had not resulted in any regular wins for the player. When you get to the jackpot bonus game, you are guaranteed to win one of the four progressive prizes.
Fire and Steel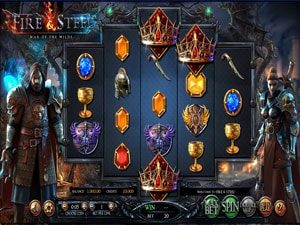 This Betsoft creation holds an immense appeal for reel spinners from South Africa with its extraordinary reel structure, amazing graphics, and Lord of the Rings stylistics. The game is part of Betsoft's 3D collection which means you can expect a gameplay that is nothing short of spectacular. There are 20 paylines you can hit winning combinations on, with the option to bet up to 5 coins per spin. Matching symbols pay in both directions which means twice as more opportunities for players to win.
The developers have included several special features to make the gameplay of Fire and Steel all the more exciting. There are two different wilds to help you out on the paylines along with free spins that can be retriggered. The game offers medium volatility so expects short dry spells between winning combinations.
Starburst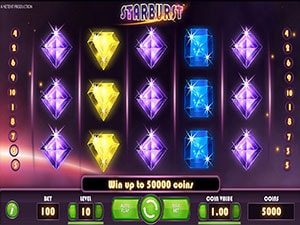 Starburst is a NetEnt creation which has acquired somewhat of a classic status among reel spinners. It remains one of the most popular slots among South African players despite being released in 2012. The game explodes from the screen in vibrant colors and uses sparkly gemstones as symbols for its reels. There are 10 fixed paylines and players can bet up to 10 coins on each.
This NetEnt slot may boast vivid 3D graphics and animations, but the game is rather simplified since it is almost entirely stripped from additional features. This, on its own, makes it a great alternative for slot rookies. Matching symbols pay in both directions which is always a plus. Other than that, Starburst features an expanding wild that triggers up to 3 re-spins.
Spinions Beach Party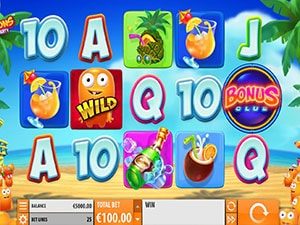 Spinions Beach Party is a 2016 release by Quickspin and plays over 5 reels, 25 fixed paylines, and 3 rows. The game offers players lots of fun and excitement as the action takes place on a sunlit beach, inhabited by dozens of weird orange creatures that resemble the minions from Despicable Me.
This slot has much to offer to South African players looking for exciting special features and symbols. Your chances of a risk-free win are improved by the sticky wild respin feature, but there is also a lucrative bonus scatter symbol. Three of those appearing on reels 1, 3 and 5 during the base game will reward you with 10 free spins.
Upgradium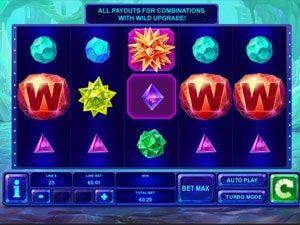 Playtech appears on our list a second time with one of its newer releases, called Upgradium. This game ranks very high in terms of popularity at South Africa casinos but we could not help but notice it looks a bit similar to NetEnt's classic Starburst. Upgradium plays on 25 lines and awards winning combination for symbols containing identical crystals.
The slot lacks bonus games and free spins but compensates for this omission with two very innovative features. There is a wild that "upgrades" the symbols in the winning combinations it participates in to the next highest paying symbols from the paytable. Also, there are "hotspots" on the second, third, and fourth reels – whenever the orange crystal lands on a hotspot, it unlocks a free respin with upgraded symbols for a higher payout. South African slot fans looking for a game of low to medium volatility should definitely check Upgradium out.
FAQ
South African lawmakers are very strict when it comes to online gambling. Interactive gambling is illegal in the country under a 2011 ruling of the Supreme Court which officially prohibited web-based gambling operators from conducting business with players, based in the country. That being said, many licensed foreign-based online casinos would readily accept play from South Africa. There are no known cases of individual South African players suffering prosecution for participation in online gambling activities.
The slots available at the South Africa casinos recommended on this website are NOT rigged and are guaranteed to run on certified Random Number Generators that have undergone testing by accredited agencies the likes of TST, eCOGRA, and iTech Labs. In addition to this, the casinos' websites themselves operate legitimately under the licenses and strict regulations of offshore regulatory authorities.
Yes, most online casinos accepting action from South Africa cater to the needs of customers from this jurisdiction by giving them the option to deposit and withdraw in their local currency, ZAR. This eliminates the need of undergoing costly currency conversion procedures.
Thanks to the advent of online casinos, slots are no longer considered a game that is suitable solely for low bettors. There are all kinds of slots online, including games designed to meet the needs of more daring spinners who are not afraid to bet as much as a hundred units in their currency, sometimes even more. If you want your bankroll to last longer, we recommend you to bet reasonably and stick to smaller wagers per spin. On the other hand, betting more coins per spin results in higher winnings for matching combinations.