Blackjack is one of the most popular card games in the world. It is a classic and is sought out by players everywhere. It is simple to some but complicated to others and yet it is a player favorite nonetheless. It has a long and mysterious history and many variations. In this article, we will give you some basic information about the game as well as how to play it.
History of Blackjack
Like many card games, the origins of blackjack remain mostly a mystery. There are some indications that it had its start in France, as well as in Spain and Rome. However, the evidence suggests that the game's predecessors were of French origin. Around the time of the first mention of the game we know today, there were a few card games that resembled it. Specifically, there was a game called vingt-et-un that had almost the same rules.
There are documentations and mentions of it in France and Spain, and even later on in America. When it was introduced there it continued to be called that way but later on the name Blackjack caught on. The name is derived from an additional 10-to-1 payout that was added in the American version and it consisted of an ace of spades and a black jack, either of spades or of clubs. The hand was called a blackjack and even though this bonus payout was soon withdrawn, the name stuck. In the modern version of the game, a blackjack is any hand with an ace and any ten-point-value card.
Basics of Blackjack
Blackjack is played with a standard 52-card deck and in a casino, the number of decks may be between one and eight. The dealer faces five or seven playing positions and hands out the cards clockwise. The object of the game is to get a hand that is higher than that of the dealer's but not exceeding 21, which is called busting. The dealer's first card is dealt face-up and the second one remains face-down unless he or she has a blackjack. There are a few moves that can be made in the standard version of this game, as well as variations that offer additional moves. There are also some details concerning the point-value of cards, which differ from poker, for example.
Possible Decisions in Blackjack
In the standard version of blackjack, the player can make four different decisions based on their hand. The first such decision is to 'hit', which means to ask the dealer for another card by either hitting the table, scraping your cards against the table, waving your hand towards your body, or in online versions of the game, simply pressing the button that says 'hit'. This move, as simple as it sounds, may actually be quite tricky because sometimes you will be dealt a hand which has the value of 15 points. In this case, it is quite easy to get a card that will make you bust and instead of increasing your chances of winning, you will lose.
The second decision a player can make is to 'stand'. This means that the player does not wish to receive any additional cards and is satisfied with their hand. The way to signal this move to a dealer is by sliding your cards under your chips or waving your hand horizontally. Again, in online games, you need to only press the button with the decision's name on it. Through this move, if you had a 15-point hand, you can only win if the dealer busts, as he or she must continue to draw cards until they have reached at least 17 (note that in some variations the dealer must still hit if they receive a soft 17).
The third decision that may be made by a player is to 'double down'. This means that the player has decided to double their bet, sometimes fully, sometimes not, and receive only one more card. The way to signal this to the dealer is by placing additional chips next to your original bet and pointing at them. This is a risky move because it is highly reliant on chance.
And the last standard decision a player can make is to 'split'. This is only possible if the player has two cards of the same value in their initial two-card hand. So, if they decide to split, they place a second bet, equal to their first, outside the betting box. Then the dealer separates the two cards and deals another card for each hand, placing one bet with each hand. The way to indicate this move to the dealer is by placing additional chips next to your original bet but outside the betting box, and pointing with two fingers in a V formation.
Another option possible in some games is to 'surrender'. This can only be done when the cards are first dealt before any moves are made and it is signaled verbally to the dealer. This results in the player receiving half of their bet back. The player can also choose to make an 'insurance' bet. This offer is only made when the dealer's card that is face-up is an ace. It is treated independently of the other wagers and it pays 2 to 1.
Rules
The rules of the game are not universal – they can vary from place to place or version to version. One such rule concerns what happens when the dealer hits soft 17. Each game has a rule as to whether the dealer should hit or stand in this case. Usually, it is written on the table as either 'H17' or 'S17'. If the dealer must stand, this increases the player's chances of winning, and if not, then the house edge is increased. If the dealer has a hand that totals less than 17, in any case, they must strive to get a better hand than that of the players, in which case they either reach exactly a hard 17 or over and stand, or bust.
As we already mentioned the option to split, we must now reveal how many times you may make this decision. Different games have different rules and some do not allow resplitting. Some have a smaller number of splits allowed, others larger, usually up to 4. With each resplit an additional matching wager is required in all cases. Additionally, if the cards being split are two aces, most games only allow one card to be added to each hand and no more. Of course, there are games that allow a player to hit as well, but they are very rare.
'The Reno rule' may also be in place. With it, the player may only double down on hard 9, 10, or 11. This is in no way advantageous for the player as even in basic strategy there are far better moments to double down. This rule prevents the player from taking full advantage of doubling down and if the player is a novice and decides to double down when this rule is in place, it increases the player's expected loss.
In most non-US games, the dealer does not consult or reveal his second card until all players have finished making decisions. This is called a 'no hole card' game. In such games, it is almost impossible to make a good double down or splitting decision. However, in some games in cases of a dealer blackjack, only the original bet of the player is collected while all side bets are returned. This rule is called 'original bet only' and is often abbreviated as 'OBO'.
Another important rule to know when playing blackjack is the 'push' rule. This means that when you and the dealer have hands of the same value your bet is returned. It is in place in most games, however, there are some that instead take your bet if you do not have a higher hand than that of the dealer. This results in catastrophic losses for players and is therefore excluded from almost all games of blackjack.
Card Value
Every numeric card in blackjack is worth exactly as many points as its number. The thing that makes blackjack special in its card value is how face cards are counted. Instead of having different values, J, Q and K all have the same value which is ten. An ace can be counted as both 1 and 11, so if you have a hand of an ace and a 9 you can feel free to hit and try your luck for the holy number 21, because even if you do not get the cards you are hoping for when playing with an ace you will not bust, at least not on the first hit.
Depending on precisely whether a hand has an ace or not, it may be either soft or hard. So, if a hand consists of an ace and a 9 it would be a soft 20. If a hand consists of a 10 and K it would be a hard 20. Another thing that depends on aces is whether you get a blackjack or not. You can only get this hand if you have an ace and a ten-point value card. This usually results in an immediate win for the player, with a usual payout of 3 to 2.
Blackjack on Mobile
Blackjack is a relatively simple game once you get the gist of it and in online non-live versions, the game is easily accessible on mobile. Most games, if not all, nowadays are created with HTML5 code, which allows for complete cross-platform compatibility. This means that you can play blackjack games on any device, with any operating system. As for live games, there are some software developers who have made theirs available on mobile too and have put a lot of efforts into creating a seamless and pleasant gameplay experience.
Software Providers
Perhaps there is not even a single online gambling software provider that does not offer blackjack as the game is so popular and is one of the classics. However, a few names have risen up above the rest by creating the best online blackjack games. These are Playtech, NetEnt, Play'n GO and Betsoft. Let us briefly acquaint you with them in the following section.
Playtech
Playtech has made a name for itself as a quality provider. It is one of the largest online gaming software providers in the world and even though the saying goes 'quality over quantity' this is not the case here as they both have an amazing collection of games but also theirs are some of the best games worldwide. It offers a great variety of games, all of which top-notch. It has earned its place in the spotlight through hard work and continues to develop software that pushes the boundaries of today's technology further.
NetEnt
NetEnt is one of the biggest names in the online casino industry. It is well-known for the large variety of games it offers, which are not only incredible but also extremely adaptive. You can play its games on desktop, mobile, tablet, anything, with any operating system, through any browser, even on both landscape and portrait mode. Its games are sought out by people worldwide and continue to impress.
Play'n GO
This provider has been credited as the best mobile gaming software provider. At the moment, it holds multiple awards for this achievement and continues to improve by creating innovations in the field. It was created in the early 90s and it was exactly Play'n GO that created the first mobile casino software. Despite not having the largest collection of games out there, the ones they have all run smoothly and beautifully.
Betsoft
Betsoft has been developing for over a decade and has created some of the most premium games in the casino industry. The company has assembled a great team of experts in all fields in order to create the best online gambling experience. It is safe to say that it is succeeding in that ambition and by doing so has given players some astonishing games.
Blackjack Strategy
Since the game was first created, people have attempted to develop multiple strategies in order to win or, at the very least, decrease their losses. There are many different charts that you can find online as well as different math-based strategies, and, of course, card counting is also used, despite the chance of getting banned from a casino when practicing that skill. There are some basic charts based on probability calculations that can help any novice player, as well as some more sophisticated ones, that require some skill when implemented.
Players' Hand
Dealer's Up Card
2
3
4
5
6
7
8
9
10
Ace
8
H
H
H
D
D
H
H
H
H
H
9
H
D
D
D
D
H
H
H
H
H
10
D
D
D
D
D
D
H
H
H
H
11
D
D
D
D
D
D
D
H
H
H
12
H
H
S
S
S
H
H
H
H
H
13
S
S
S
S
S
H
H
H
H
H
14
S
S
S
S
S
H
H
H
H
H
15
S
S
S
S
S
H
H
H
H
H
16
S
S
S
S
S
H
H
H
H
H
Ace-2
H
H
H
D
D
H
H
H
H
H
Ace-3
H
H
D
D
D
H
H
H
H
H
Ace-4
H
H
D
D
D
H
H
H
H
H
Ace-5
H
H
D
D
D
H
H
H
H
H
Ace-6
H
D
D
D
D
H
H
H
H
H
Ace-7
S
D
D
D
D
S
S
H
H
H
Ace-8
S
S
S
S
S
S
S
S
S
S
Ace-9
S
S
S
S
S
S
S
S
S
S
Ace-Ace
SP
SP
SP
SP
SP
SP
SP
H
H
H
2-2
SP
SP
SP
SP
SP
SP
H
H
H
H
3-3
SP
SP
SP
SP
SP
SP
H
H
H
H
4-4
H
H
H
SP
SP
H
H
H
H
H
5-5
D
D
D
D
D
D
H
H
H
H
6-6
SP
SP
SP
SP
SP
H
H
H
H
H
7-7
SP
SP
SP
SP
SP
SP
H
H
H
H
8-8
SP
SP
SP
SP
SP
SP
SP
SP
SP
SP
9-9
SP
SP
SP
SP
SP
S
SP
SP
S
S
Most Popular Blackjack Games Online
Of course, not only is blackjack popular in casinos worldwide but also on the internet. There are some providers that offer blackjack games that are of the same variation but there are also some that are quite unique. Naturally, since the game is a classic, it has spurred the creation of similar games inspired by it. Such games are Pontoon or Spanish 21, Double Exposure Blackjack, and Super Fun 21. There are even some TV show variants like Gambit and Catch 21. Here, we have collected the most popular online blackjack games and shall review them for you.
Perfect Blackjack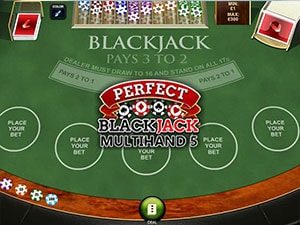 This is a game by Playtech with some great features. You can play 5 hands which you can additionally split. On top of this, you also have an insurance bet, player's pair bet, and dealer's pair bet. You can also change the color of the tabletop and you have additional audio settings. In this variation, the dealer must stand on all 17s and draw until he reaches 16.
You can pick chips with a value of 0.10 to 100, the minimum bet being 2 and the maximum 100. You have buttons to rebet, rebet and deal, hit, stand, double, split and an additional button for an insurance bet. All you have to do to place an initial bet is click on the betting box you wish to place your bet on. The game plays smoothly across platforms and is well animated. It is also worth noting that this is a no hole card game.
Blackjack Switch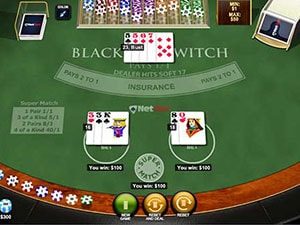 This game is also by Playtech and gives the player the amazing opportunity to switch cards between hands. You can play two hands and the second cards of both are interchangeable which allows you to make some great winning combinations and increases your chances of getting a blackjack. However, the payout for a blackjack is not 3 to 2 as in most games, but 1 to 1.
You also have a special bet here called super match, which pays out if your initial hand has a pair or three of a kind, two pairs, four of a kind. The payouts for each are different – a pair pays out 1 to 1, three of a kind pays out 5 to 1, two pairs pays 8 to 1, and four of a kind pays 40 to 1. Another downside, though, is that when the dealer hits 22 this is considered a draw and you get a push instead of a win. Here, the dealer hits on soft 17 and as the game is once again by the same provider, the buttons are the same too.
Blackjack Pro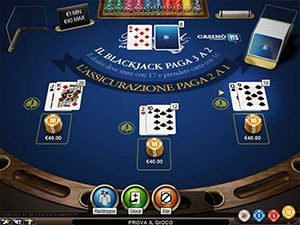 Here, we have two variations for you, one by Playtech, one by NetEnt. The two differ in more than one way, though, and so, let us first go over the Playtech Blackjack Pro game. In it, you have the same buttons and settings as the previous two games we reviewed. The dealer also hits on soft 17 and you can play 5 hands. The minimum bet is a chip with the value 1 and the maximum is 300.
On the other hand, the NetEnt version of the game allows the player to make a bet between a chip with the value 1 to one with the value of 40, which is a pretty low maximum. Another two key differences here are that you can play three hands in this game and you can only split a hand once. Both games are well animated and play seamlessly across platforms. Additionally, there are applications and software you can download to play this game by different providers too.
European Blackjack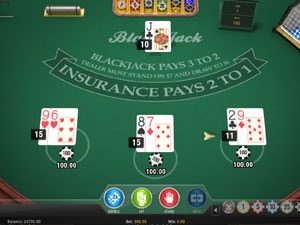 This is a game by Play'n GO and here the minimum bet is of a chip with the value 1 and the maximum is 100. The dealer must stand on 17 and draw to 16 and you can play three hands which you can split only once. The game has a beautiful layout and runs perfectly both on desktop and mobile. It was, in fact, created for mobile play. You can adjust the speed of the gameplay and so the animation can change pace.
The buttons here are placed differently too and even though you cannot split or double every time, the buttons remain on the screen. Something worth noting here is the fact that there is no second 'hole' card for the dealer in this game, until the player has finished their hand.
Blackjack Surrender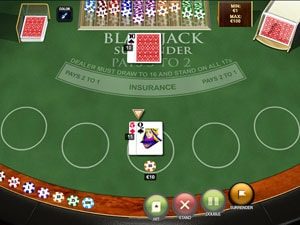 This game is by Playtech and presents the player with the option to surrender and receive half of their bet back. You can play 5 hands the minimum bet for each is a $2 chip and the maximum is a $100 one, which, of course, have a different value in rands. Like the rest of the Playtech games, you can change the color of the tabletop, and adjust the sound and speed.
Here, once you have split a hand, you are dealt only one more card and that is it, so not only can you split just once, you also cannot adjust your split hand. The dealer must draw to 16 and stand on all 17s. The gameplay itself is great and you can get some solid wins if you know what you are doing and how to use the surrender function, as well as when to split with this type of game. Other than that, the game runs wonderfully, both at regular speed and faster.
American Blackjack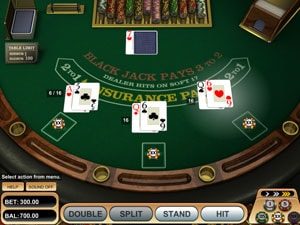 This version of the game is by Betsoft. Here you can play with up to three hands initially and can also only split a hand once but you have control over what happens to it. You can also adjust the speed of the gameplay and the sound. The minimum bet is a chip with the value 1 and the maximum is of the value 100 in USD, so in rands this value is changed.
The dealer hits on soft 17, so this decreases your chances of winning a bit. Otherwise, the design of the game is beautiful and clearly had a talented team behind its creation. The animation is also quite nice and the game is overall enjoyable.
FAQ
It is, but you will not be prosecuted for doing it as the law does not target individuals but the companies and industries that aid online gambling, such as banks and the casinos themselves. There are still casinos that allow players from South Africa and they are fully aware of the law but are simply located too far away for the South African authorities to be able to reach them.
Yes. The online casinos of today are equipped with the latest encryption technology and additional data protection protocols in place. You can check the security of any online casino on their website.
You can check the answer to this question by viewing the page of the software provider that developed the game you have chosen to play. The ones we have recommended are all fair and by trusted providers.